By the CNN Wire Staff
updated 2:30 PM EST, Fri October 14, 2011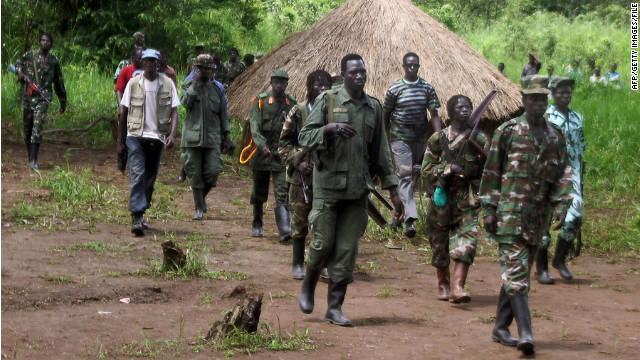 President Obama says the Lord's Resistance Army "has murdered, raped, and kidnapped" thousands of people.
Washington (CNN) — President Barack Obama is sending about 100 U.S. troops to Africa to help hunt down the leaders of the notoriously violent Lord's Resistance Army.
"I have authorized a small number of combat-equipped U.S. forces to deploy to central Africa to provide assistance to regional forces that are working toward the removal of Joseph Kony from the battlefield," Obama said in letter to House Speaker John Boehner and Daniel Inouye, the president pro tempore of the Senate. Kony is the head of the Lord's Resistance Army.
"I believe that deploying these U.S. Armed Forces furthers U.S. national security interests and foreign policy and will be a significant contribution toward counter-LRA efforts in central Africa."
Obama notes that the group "has murdered, raped, and kidnapped tens of thousands of men, women, and children in central Africa" and "continues to commit atrocities across the Central African Republic, the Democratic Republic of the Congo, and South Sudan that have a disproportionate impact on regional security."
He said the United States has backed regional military efforts since 2008 to go after the Lord's Resistance Army, but they have been unsuccessful. U.S. military personnel will advise regional forces working to target Kony and other senior leaders. The president said the troops will not engage Kony's forces "unless necessary for self-defense."
Obama cites the Lord's Resistance Army Disarmament and Northern Uganda Recovery Act of 2009. In that, Congress "expressed support for increased, comprehensive U.S. efforts to help mitigate and eliminate the threat posed by the LRA to civilians and regional stability."
"I have directed this deployment, which is in the national security and foreign policy interests of the United States, pursuant to my constitutional authority to conduct U.S. foreign relations and as Commander in Chief and Chief Executive. I am making this report as part of my efforts to keep the Congress fully informed, consistent with the War Powers Resolution," he said. "I appreciate the support of the Congress in this action."
Obama said the initial team of U.S. military personnel with appropriate combat equipment deployed to Uganda" on Wednesday. Other forces deploying include "a second combat-equipped team and associated headquarters, communications, and logistics personnel."
"Our forces will provide information, advice, and assistance to select partner nation forces. Subject to the approval of each respective host nation, elements of these U.S. forces will deploy into Uganda, South Sudan, the Central African Republic, and the Democratic Republic of the Congo. The support provided by U.S. forces will enhance regional efforts against the LRA. "
One member of Congress, Sen. Jim Inhofe, R-Oklahoma, weighed in to support the effort.
"I applaud our nation's military for making this a priority and taking the steps outlined in our legislation that will eventually protect the children and people from Joseph Kony's reign of terror," said Inhofe.
"I have witnessed firsthand the devastation caused by the LRA, and this will help end Kony's heinous acts that have created a human rights crisis in Africa. We must work to bring justice to the children and victims in Uganda devastated by Kony and the LRA. I have been fervently involved in trying to prevent further abductions and murders of Ugandan children, and today's action offers hope that the end of the LRA is in sight."